About Us
Great Wall is a Chinese takeaway in Penge. Why don't you try our BBQ Spare Ribs or House Special Mixed Platter (For 2 Persons)?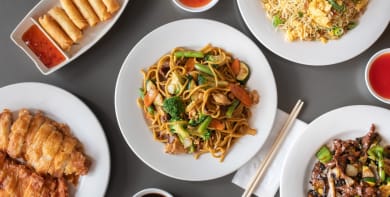 Reviews
482 reviews
Tina
"The driver was extremely polite Good people services. 💯"
13/04/2021
Shareen
"Delicious food from Great Wall. Second time we have ordered from here. Food was piping hot and fresh tasting. Also delivered food to me on time. I'm one happy pregnant customer :)"
12/04/2021
Tina
"Food was lovely , customer service was great."
10/04/2021
Claire
"First time ordering from this take away which was delivered early. I really enjoyed the food, mains were really hot and were generous potions. Will definitely order from here again."
10/04/2021
Menu
Mixed Vegetable Crispy Noodle
Vegetables
£5.50
House Special Crispy Noodle with Sauce
Topped with chicken, beef, roast pork, king prawn, vegetable & gravy sauce
£6.50
Crispy Noodle C. Roast Pork
£6.00
House Special Singapore Rice Noodle
Hot
£5.80
Seafood Fried Rice with Sauce
£6.50
Rice Noodle Singapore Style
Hot
£5.30
Seafood Chow Mein with Sauce
£6.50
Singapore Rice Noodle with Beef
Hot
£5.50
Singapore Rice Noodle with Chicken
Hot
£5.50
Singapore Rice Noodle with Duck
Hot
£6.00
Singapore Rice Noodle with Pork
Hot
£5.50
Singapore Rice Noodle with Prawn
Hot
£6.00
Vegetable Singapore Rice Noodle
Hot
Vegetables
£5.00
Chinese Style A. King Prawn
£5.80
Chinese Style C. Roast Duck
£5.80
Chinese Style C. Roast Pork
£5.30
Roast Pork in Black Pepper Sauce
Hot
£5.50
Roast Pork in Chilli Sauce
Hot
£5.30
Roast Pork with Ginger & Spring Onion
£5.50
Roast Pork with Green Pepper in Black Bean Sauce
Hot
£5.50
Roast Pork with Mixed Vegetables
£5.50
Stir Fried Udon (Dry) A. Beef
£6.60
Stir Fried Udon (Dry) B. King Prawn
£6.60
Stir Fried Udon (Dry) C. Chicken
£6.60
Stir Fried Udon (Dry) D. Duck
£6.60
Stir Fried Hofan (Dry) A. Beef
£6.30
Stir Fried Hofan (Dry) B. King Prawn
£6.30
Stir Fried Hofan (Dry) C. Chicken
£6.30
Stir Fried Hofan (Dry) D. Duck
£6.30
Beef Fried Udon with Green Pepper & Black Bean
Sauce
£6.60
Beef Fried Hofan with Green Pepper & Black Bean
Sauce
£6.60
Roast Duck in Black Pepper Sauce
Hot
£6.00
Roast Duck in Chilli Sauce
Hot
£6.00
Roast Duck with Ginger & Pineapple
£6.00
Roast Duck with Ginger & Spring Onion
£6.00
Roast Duck with Green Pepper in Black Bean Sauce
Hot
£6.00
Roast Duck with Mixed Vegetable
£6.00
Mixed Vegetables Thai Curry Green
Hot
Vegetables
£5.00
Mixed Vegetables Thai Curry Red
Hot
Vegetables
£5.00
Mixed Meat Thai Curry Green
Hot
£5.70
Mixed Meat Thai Curry Red
Hot
£5.70
Lamb Thai Curry Green
Hot
£6.00
King Prawn Thai Curry Green
Hot
£6.00
King Prawn Thai Curry Red
Hot
£6.00
Duck Thai Curry Green
Hot
£6.00
Beef Thai Curry Green
Hot
£5.30
Chicken Thai Curry Green
Hot
£5.30
Chicken Thai Curry Red
Hot
£5.30
Tofu Thai Curry Green
Hot
Vegetable
£5.00
Tofu Thai Curry Red
Hot
Vegetable
£5.00
Squid in Black Pepper Sauce
Hot
£6.30
Squid in Chilli Sauce
Hot
£6.30
Squid with Black Bean Sauce
Hot
£6.30
Squid with Ginger & Spring Onion
£6.30
Crab Meat & Sweetcorn Soup
£3.30
Mixed Vegetables Soup
Vegetables
£3.00
Tofu in Chilli Sauce
Hot
Vegetable
£5.00
Tofu in Oyster Sauce
Vegetables
£5.00
Tofu with Green Pepper in Black Bean Sauce
Hot
Vegetables
£5.00
Stir Fried Broccoli
Vegetables
£5.00
Stir Fried Mixed Vegetables
Vegetables
£4.50
Mixed Vegetable with Green Pepper in Black Bean
Sauce
Hot
Vegetables
£4.60
Mixed Vegetables & Mushroom
Vegetables
£4.50
Mixed Vegetables & Tofu
Vegetables
£4.60
Aubergine with Green Pepper in Black Bean Sauce
Vegetables
£5.00
BBQ Spare Ribs With Sauce
£6.00
Chicken Wings with BBQ Sauce
£5.30
Chicken Wings with Honey Sauce
£5.30
Crispy Vegetarian Spring Roll
Vegetables
£3.10
Crispy Aromatic Duck Half
£17.00
Crispy Aromatic Duck Quarter
£9.00
House Special Mixed Platter (For 2 Persons)
Seaweed, spring rolls, capital spare ribs, chicken on skewers (nuts) & sesame prawn on toast (nuts)
£10.00
Spare Ribs in Capital Sauce
£6.00
Spare Ribs in Honey Sauce
£6.00
Salt & Pepper Chicken Wings
Hot
£5.00
Salt & Pepper King Prawn
Hot
£6.00
Salt & Pepper Chicken
Hot
£5.10
Salt & Pepper Spare Ribs
Hot
£6.00
Satay Chicken on Skewers
Nuts
£5.10
Satay King Prawn on Skewers
Nuts
£6.00
Sesame Prawn on Toast
Nuts
£5.30
Tsingtao Mini Vegetarian Spring Rolls (8)
Vegetables
£3.00
Chicken in Chilli Sauce
Hot
£5.50
Chicken with Cashew Nuts
Nuts
£5.50
Chicken with Ginger & Spring Onion
£5.50
Chicken with Green Pepper in Black Bean Sauce
Hot
£5.50
Chicken with Mixed Vegetable
£5.50
Chicken in Black Pepper Sauce
Hot
£5.50
Beef in Black Pepper Sauce
Hot
£5.50
Beef with Cashew Nuts
Nuts
£5.50
Beef with Ginger & Spring Onion
£5.50
Beef with Green Pepper in Black Bean Sauce
Hot
£5.50
Beef with Mixed Vegetables
£5.50
Lamb in Black Pepper Sauce
Hot
£6.30
Lamb with Ginger & Spring Onion
£6.30
Lamb with Green Pepper in Black Bean Sauce
Hot
£6.30
Lamb with Mixed Vegetables
£6.30
Mixed Vegetable Chow Mein
Vegetables
£4.70
Mushroom Chow Mein
Vegetables
£4.70
House Special Chow Mein with Sauce
Topped with chicken, beef, roast pork, king prawn, vegetable & gravy sauce
£7.10
Bean Sprouts Chow Mein
Vegetables
£4.70
Shredded Chicken Chow Mein
£5.30
Triple Delight
King prawn, squid & fish with vegetable
£6.30
King Prawn in Black Pepper Sauce
Hot
£6.30
King Prawn in Chilli Sauce
Hot
£6.30
King Prawn with Black Bean Sauce
Hot
£6.30
King Prawn with Cashew Nuts
Nuts
£6.30
King Prawn with Ginger & Spring Onion
£6.30
King Prawn with Mixed Vegetables
£6.30
House Special with Boiled Rice
£7.10
Roast Duck & Roast Pork with Boiled Rice
£7.10
Roast Duck with Boiled Rice
£7.10
King Prawn in Black Bean with Boiled Rice
£7.10
Beef in Black Bean Sauce with Boiled Rice
£7.10
Beef Curry with Boiled Rice
£7.10
Chicken Curry with Boiled Rice
£7.10
Chicken in Black Bean Sauce with Boiled Rice
£7.10
Roast Pork with Boiled Rice
£7.10
Sweet & Sour Chicken with Boiled Rice
£7.10
Shredded Chicken Fried Rice
£5.30
Thai Style Fried Rice
Hot
£5.80
Beef with Lettuce Fried Rice
£5.30
Mixed Vegetable Fried Rice
Vegetables
£4.70
Mushroom Fried Rice
Vegetables
£4.70
House Special Fried Rice with Sauce
Topped with chicken, beef, roast pork, king prawn, vegetable & gravy sauce
£7.10
Sweet & Sour King Prawn Hong Kong Style
£6.00
Sweet & Sour Mixed Vegetable
Vegetables
£4.70
Sweet & Sour Pork Hong Kong Style
£5.50
Sweet & Sour Aubergine
Vegetables
£5.00
Sweet & Sour Chicken Hong Kong Style
£5.50
Sweet & Sour Spare Ribs Hong Kong Style
£6.00
Sweet & Sour Tofu
Vegetables
£4.70
Crispy Pork Balls 06 Pieces
With sweet & sour sauce
£4.30
Crispy Pork Balls 10 Pieces
With sweet & sour sauce
£5.50
Kung Po King Prawn
Hot
Nuts
£6.00
Crispy Chicken Balls 06 Pieces
With sweet & sour sauce
£4.30
Crispy Chicken Balls 10 Pieces
With sweet & sour sauce
£5.50
Crispy King Prawn Balls 06 Pieces
With sweet & sour sauce
£4.30
Crispy King Prawn Balls 10 Pieces
With sweet & sour sauce
£6.00
Crispy Shredded Chilli Beef
Hot
£5.50
Crispy Shredded Chilli Chicken
Hot
£5.50
Mushroom Foo Yung
Vegetables
£6.30
Shredded Chicken Foo Yung
£5.80
Set Dinner A1 For 1 Person
Tsingtao mini vegetarian spring rolls (vegetables)
Sweet & sour chicken
Beef curry (hot)
Egg fried rice
£15.00
Set Dinner A2 For 1 Person
Salt & pepper chicken wings (hot)
Sweet & sour pork
King prawn curry (hot)
Special fried rice
Prawn crackers
£19.00
Set Dinner B1 For 2 Persons
Sweet & sour chicken balls (10)
Beef with green pepper & black bean sauce (hot)
Chicken curry (hot)
Mixed vegetables (vegetables)
Special fried rice x 2
Prawn crackers
£25.00
Set Dinner B2 For 2 Persons
BBQ spare ribs
Chicken & sweetcorn soup
Sweet & sour king prawn
Beef with green pepper & black bean sauce (hot)
Mixed vegetables (vegetables)
Special fried rice x 2
Prawn crackers
2 cans of Coke
£29.00
Set Dinner B3 For 2 Persons
House special mixed platter
(Seaweed, spring roll, capital spare ribs, chicken on skewers (nuts), sesame prawn on toast (nuts)
Crab meat & sweetcorn soup x 2
Salt & pepper chicken wings (hot)
Lemon chicken
King prawn with green pepper & black bean sauce (hot)
Beef with mushroom
Special fried rice x 2
Prawn crackers
2 cans of Coke
£33.00
Set Dinner B4 For 2 Persons
House special mixed platter
(Seaweed, spring roll, capital spare ribs, chicken on skewers (nuts), sesame prawn on toast (nuts))
Crab meat & sweetcorn soup x 2
Crispy aromatic duck (quarter)
Beef with cashew nuts (nuts)
Crispy shredded chicken (hot)
Triple delight
(King prawn, squid & fish with vegetable)
Seafood fried rice x 2
Prawn crackers
Bottle of Coke
£37.00
Set Dinner C For 3 Persons
House special mixed platter
(Seaweed, spring roll, capital spare ribs, chicken on skewers (nuts), sesame prawn on toast (nuts))
Crispy shredded chicken (hot)
Duck with green pepper & black bean sauce (hot)
Sweet & sour king prawn
Beef with mixed vegetables
Special fried rice x 3
Prawn crackers
Bottle of Coke
£37.00
Set Dinner D For 4 Persons
(Half) Crispy aromatic duck
Crispy shredded chicken (hot) 
Tempura king prawn
Crispy shredded beef (hot)
Lamb with green pepper & black bean sauce (hot)
Sweet & sour chicken
Tofu with mixed vegetables (vegetables)
King prawn fried rice x 2
King prawn chow mein x 2
Prawn crackers
Bottle of Coke
£51.00
Mushroom Curry
Hot
Vegetables
£4.80
Mixed Vegetable Curry
Hot
Vegetables
£4.80
Contact Us
Find Us
4 Croydon Road, Penge, SE207AF
We deliver to
BR3, CR0, CR7, SE19, SE20, SE21, SE23, SE25, SE26, SE6