About Us
Great Wall is a Chinese takeaway in Penge. Why don't you try our BBQ Spare Ribs or House Special Mixed Platter (For 2 Persons)?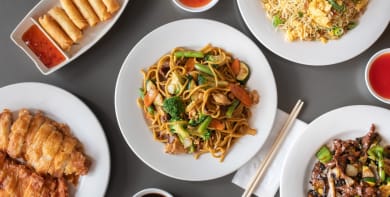 Reviews
446 reviews
temi
"They forgot my chilli oil which I specifically called them to ask for but inspite of that the food was delicious and would definitely order again"
01/07/2020
louis
"They forgot one of my soups and gave me an extra portion of chips. Delivery guy was nice."
30/06/2020
Carl
"Excellent, and it's my nearest Chinese lucky me"
30/06/2020
Lewis
"First time ordering here and it is now our favourite!! Great food delivered on time. Couldn't ask for more"
28/06/2020
Menu
Mixed Vegetable Crispy Noodle
Vegetables
£5.50
House Special Crispy Noodle with Sauce
Topped with chicken, beef, roast pork, king prawn, vegetable & gravy sauce
£6.50
Crispy Noodle C. Roast Pork
£6.00
House Special Singapore Rice Noodle
Hot
£5.80
Seafood Fried Rice with Sauce
£6.50
Rice Noodle Singapore Style
Hot
£5.30
Seafood Chow Mein with Sauce
£6.50
Singapore Rice Noodle with Beef
Hot
£5.50
Singapore Rice Noodle with Chicken
Hot
£5.50
Singapore Rice Noodle with Duck
Hot
£6.00
Singapore Rice Noodle with Pork
Hot
£5.50
Singapore Rice Noodle with Prawn
Hot
£6.00
Vegetable Singapore Rice Noodle
Hot
Vegetables
£5.00
Chinese Style A. King Prawn
£5.80
Chinese Style C. Roast Duck
£5.80
Chinese Style C. Roast Pork
£5.30
Roast Pork in Black Pepper Sauce
Hot
£5.50
Roast Pork in Chilli Sauce
Hot
£5.30
Roast Pork with Ginger & Spring Onion
£5.50
Roast Pork with Green Pepper in Black Bean Sauce
Hot
£5.50
Roast Pork with Mixed Vegetables
£5.50
Stir Fried Udon (Dry) A. Beef
£6.60
Stir Fried Udon (Dry) B. King Prawn
£6.60
Stir Fried Udon (Dry) C. Chicken
£6.60
Stir Fried Udon (Dry) D. Duck
£6.60
Stir Fried Hofan (Dry) A. Beef
£6.30
Stir Fried Hofan (Dry) B. King Prawn
£6.30
Stir Fried Hofan (Dry) C. Chicken
£6.30
Stir Fried Hofan (Dry) D. Duck
£6.30
Beef Fried Udon with Green Pepper & Black Bean
Sauce
£6.60
Beef Fried Hofan with Green Pepper & Black Bean
Sauce
£6.60
Roast Duck in Black Pepper Sauce
Hot
£6.00
Roast Duck in Chilli Sauce
Hot
£6.00
Roast Duck with Ginger & Pineapple
£6.00
Roast Duck with Ginger & Spring Onion
£6.00
Roast Duck with Green Pepper in Black Bean Sauce
Hot
£6.00
Roast Duck with Mixed Vegetable
£6.00
Mixed Vegetables Thai Curry Green
Hot
Vegetables
£5.00
Mixed Vegetables Thai Curry Red
Hot
Vegetables
£5.00
Mixed Meat Thai Curry Green
Hot
£5.70
Mixed Meat Thai Curry Red
Hot
£5.70
Lamb Thai Curry Green
Hot
£6.00
King Prawn Thai Curry Green
Hot
£6.00
King Prawn Thai Curry Red
Hot
£6.00
Duck Thai Curry Green
Hot
£6.00
Beef Thai Curry Green
Hot
£5.30
Chicken Thai Curry Green
Hot
£5.30
Chicken Thai Curry Red
Hot
£5.30
Tofu Thai Curry Green
Hot
Vegetable
£5.00
Tofu Thai Curry Red
Hot
Vegetable
£5.00
Squid in Black Pepper Sauce
Hot
£6.30
Squid in Chilli Sauce
Hot
£6.30
Squid with Black Bean Sauce
Hot
£6.30
Squid with Ginger & Spring Onion
£6.30
Crab Meat & Sweetcorn Soup
£3.30
Mixed Vegetables Soup
Vegetables
£3.00
Tofu in Chilli Sauce
Hot
Vegetable
£5.00
Tofu in Oyster Sauce
Vegetables
£5.00
Tofu with Green Pepper in Black Bean Sauce
Hot
Vegetables
£5.00
Stir Fried Broccoli
Vegetables
£5.00
Stir Fried Mixed Vegetables
Vegetables
£4.50
Mixed Vegetable with Green Pepper in Black Bean
Sauce
Hot
Vegetables
£4.60
Mixed Vegetables & Mushroom
Vegetables
£4.50
Mixed Vegetables & Tofu
Vegetables
£4.60
Aubergine with Green Pepper in Black Bean Sauce
Vegetables
£5.00
BBQ Spare Ribs With Sauce
£6.00
Chicken Wings with BBQ Sauce
£5.30
Chicken Wings with Honey Sauce
£5.30
Crispy Vegetarian Spring Roll
Vegetables
£3.10
Crispy Aromatic Duck Half
£17.00
Crispy Aromatic Duck Quarter
£9.00
House Special Mixed Platter (For 2 Persons)
Seaweed, spring rolls, capital spare ribs, chicken on skewers (nuts) & sesame prawn on toast (nuts)
£10.00
Spare Ribs in Capital Sauce
£6.00
Spare Ribs in Honey Sauce
£6.00
Salt & Pepper Chicken Wings
Hot
£5.00
Salt & Pepper King Prawn
Hot
£6.00
Salt & Pepper Chicken
Hot
£5.10
Salt & Pepper Spare Ribs
Hot
£6.00
Satay Chicken on Skewers
Nuts
£5.10
Satay King Prawn on Skewers
Nuts
£6.00
Sesame Prawn on Toast
Nuts
£5.30
Tsingtao Mini Vegetarian Spring Rolls (8)
Vegetables
£3.00
Chicken in Chilli Sauce
Hot
£5.50
Chicken with Cashew Nuts
Nuts
£5.50
Chicken with Ginger & Spring Onion
£5.50
Chicken with Green Pepper in Black Bean Sauce
Hot
£5.50
Chicken with Mixed Vegetable
£5.50
Chicken in Black Pepper Sauce
Hot
£5.50
Beef in Black Pepper Sauce
Hot
£5.50
Beef with Cashew Nuts
Nuts
£5.50
Beef with Ginger & Spring Onion
£5.50
Beef with Green Pepper in Black Bean Sauce
Hot
£5.50
Beef with Mixed Vegetables
£5.50
Lamb in Black Pepper Sauce
Hot
£6.30
Lamb with Ginger & Spring Onion
£6.30
Lamb with Green Pepper in Black Bean Sauce
Hot
£6.30
Lamb with Mixed Vegetables
£6.30
Mixed Vegetable Chow Mein
Vegetables
£4.70
Mushroom Chow Mein
Vegetables
£4.70
House Special Chow Mein with Sauce
Topped with chicken, beef, roast pork, king prawn, vegetable & gravy sauce
£7.10
Bean Sprouts Chow Mein
Vegetables
£4.70
Shredded Chicken Chow Mein
£5.30
Triple Delight
King prawn, squid & fish with vegetable
£6.30
King Prawn in Black Pepper Sauce
Hot
£6.30
King Prawn in Chilli Sauce
Hot
£6.30
King Prawn with Black Bean Sauce
Hot
£6.30
King Prawn with Cashew Nuts
Nuts
£6.30
King Prawn with Ginger & Spring Onion
£6.30
King Prawn with Mixed Vegetables
£6.30
House Special with Boiled Rice
£7.10
Roast Duck & Roast Pork with Boiled Rice
£7.10
Roast Duck with Boiled Rice
£7.10
King Prawn in Black Bean with Boiled Rice
£7.10
Beef in Black Bean Sauce with Boiled Rice
£7.10
Beef Curry with Boiled Rice
£7.10
Chicken Curry with Boiled Rice
£7.10
Chicken in Black Bean Sauce with Boiled Rice
£7.10
Roast Pork with Boiled Rice
£7.10
Sweet & Sour Chicken with Boiled Rice
£7.10
Shredded Chicken Fried Rice
£5.30
Thai Style Fried Rice
Hot
£5.80
Beef with Lettuce Fried Rice
£5.30
Mixed Vegetable Fried Rice
Vegetables
£4.70
Mushroom Fried Rice
Vegetables
£4.70
House Special Fried Rice with Sauce
Topped with chicken, beef, roast pork, king prawn, vegetable & gravy sauce
£7.10
Sweet & Sour King Prawn Hong Kong Style
£6.00
Sweet & Sour Mixed Vegetable
Vegetables
£4.70
Sweet & Sour Pork Hong Kong Style
£5.50
Sweet & Sour Aubergine
Vegetables
£5.00
Sweet & Sour Chicken Hong Kong Style
£5.50
Sweet & Sour Spare Ribs Hong Kong Style
£6.00
Sweet & Sour Tofu
Vegetables
£4.70
Crispy Pork Balls 06 Pieces
With sweet & sour sauce
£4.30
Crispy Pork Balls 10 Pieces
With sweet & sour sauce
£5.50
Kung Po King Prawn
Hot
Nuts
£6.00
Crispy Chicken Balls 06 Pieces
With sweet & sour sauce
£4.30
Crispy Chicken Balls 10 Pieces
With sweet & sour sauce
£5.50
Crispy King Prawn Balls 06 Pieces
With sweet & sour sauce
£4.30
Crispy King Prawn Balls 10 Pieces
With sweet & sour sauce
£6.00
Crispy Shredded Chilli Beef
Hot
£5.50
Crispy Shredded Chilli Chicken
Hot
£5.50
Mushroom Foo Yung
Vegetables
£6.30
Shredded Chicken Foo Yung
£5.80
Set Dinner A1 For 1 Person
Tsingtao mini vegetarian spring rolls (vegetables)
Sweet & sour chicken
Beef curry (hot)
Egg fried rice
£15.00
Set Dinner A2 For 1 Person
Salt & pepper chicken wings (hot)
Sweet & sour pork
King prawn curry (hot)
Special fried rice
Prawn crackers
£19.00
Set Dinner B1 For 2 Persons
Sweet & sour chicken balls (10)
Beef with green pepper & black bean sauce (hot)
Chicken curry (hot)
Mixed vegetables (vegetables)
Special fried rice x 2
Prawn crackers
£25.00
Set Dinner B2 For 2 Persons
BBQ spare ribs
Chicken & sweetcorn soup
Sweet & sour king prawn
Beef with green pepper & black bean sauce (hot)
Mixed vegetables (vegetables)
Special fried rice x 2
Prawn crackers
2 cans of Coke
£29.00
Set Dinner B3 For 2 Persons
House special mixed platter
(Seaweed, spring roll, capital spare ribs, chicken on skewers (nuts), sesame prawn on toast (nuts)
Crab meat & sweetcorn soup x 2
Salt & pepper chicken wings (hot)
Lemon chicken
King prawn with green pepper & black bean sauce (hot)
Beef with mushroom
Special fried rice x 2
Prawn crackers
2 cans of Coke
£33.00
Set Dinner B4 For 2 Persons
House special mixed platter
(Seaweed, spring roll, capital spare ribs, chicken on skewers (nuts), sesame prawn on toast (nuts))
Crab meat & sweetcorn soup x 2
Crispy aromatic duck (quarter)
Beef with cashew nuts (nuts)
Crispy shredded chicken (hot)
Triple delight
(King prawn, squid & fish with vegetable)
Seafood fried rice x 2
Prawn crackers
Bottle of Coke
£37.00
Set Dinner C For 3 Persons
House special mixed platter
(Seaweed, spring roll, capital spare ribs, chicken on skewers (nuts), sesame prawn on toast (nuts))
Crispy shredded chicken (hot)
Duck with green pepper & black bean sauce (hot)
Sweet & sour king prawn
Beef with mixed vegetables
Special fried rice x 3
Prawn crackers
Bottle of Coke
£37.00
Set Dinner D For 4 Persons
(Half) Crispy aromatic duck
Crispy shredded chicken (hot) 
Tempura king prawn
Crispy shredded beef (hot)
Lamb with green pepper & black bean sauce (hot)
Sweet & sour chicken
Tofu with mixed vegetables (vegetables)
King prawn fried rice x 2
King prawn chow mein x 2
Prawn crackers
Bottle of Coke
£51.00
Mushroom Curry
Hot
Vegetables
£4.80
Mixed Vegetable Curry
Hot
Vegetables
£4.80
Contact Us
Find Us
4 Croydon Road, Penge, SE207AF
We deliver to
BR3, CR0, CR7, SE19, SE20, SE21, SE23, SE25, SE26, SE6